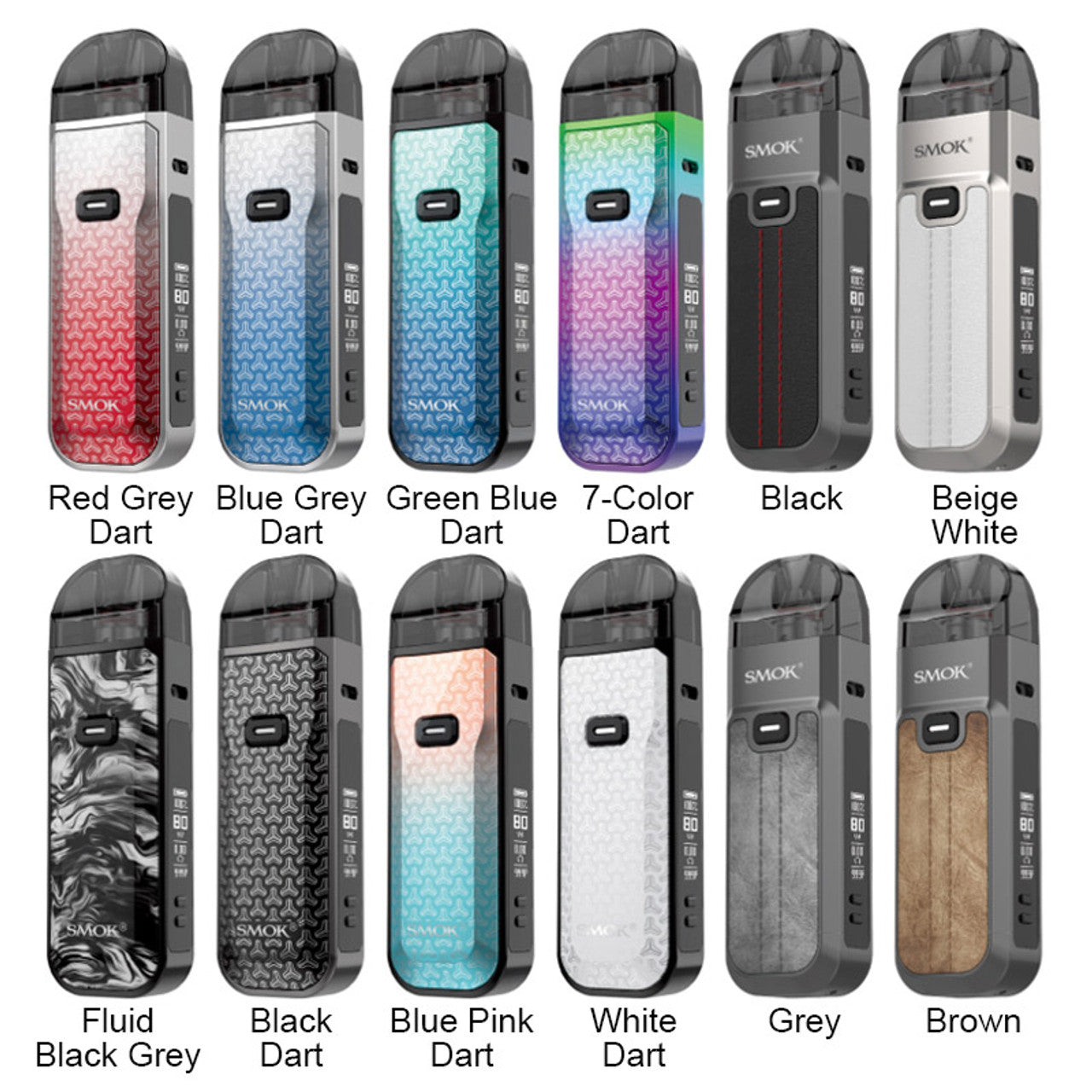 Smok Nord 5 Kit 80W
---
Go beyond
Features:
- stepless airflow control
- 5ml
- coil lock design
- rpm 3 coils compatible
- max 80w power
- 2000mah
Igniting the nord 5, the built-in 2000mah battery wakes up the watt mode and makes the dual-side airflow system effective, allowing you to adapt the power and air intake to your preference on the strength of the taste. Moreover, the ingenious lock design on the pod secures the coil in place, effectively avoiding child contact and mess leakage. Innovation keeps changing the vaping experience!
A big battery makes a difference:
The 2000mah of the battery capacity enables the nord 5 vibrant, driving the power anxiety away and leaving you nothing but the immersing vaping.
Stepless airflow control:
Drag the slider to define the air intake, and the dual-side air inlet layout enables fuller atomization and more balanced heat dissipation, contributing to a smooth and plump taste.
Power adjustable, experience up-to-date:
Just stay focused on the preferred taste and nord 5 is here to satisfy you whether you favour a delicate or tough one by freely adjusting the working power within 5w-80w.
Closely follow your puffing:
The 0.69inch oled display shows you the accurate working data and the led indicator lets you know the current situation that your device is facing, such as flashing 5 times to echo with the short circuit.
Max 1.5a type-c charging:
It'll take an hour and 40 minutes at most to recover from the low battery and stay in top shape in the next vape journey.
5ml e-liquid capacity:
Growing in endurance with an increasing capacity of 5ml, nord 5 is adequate for introducing a tasty e-liquid to you and processing it into gratifying flavour.
Coil introduction:
Perfect for dl vaping
Specifications:
- rpm 3 meshed 0.15ohm coil
- fast ramp-up time
- better flavour & massive vapour
- wattage: 40-80w
Specifications:
- rpm 3 meshed 0.23ohm coil
- more even heat surface
- smooth taste & rich flavour
- wattage: 20-45w
Lock the risk, unlock the safety:
Nord 5 pod is configured with an ingenious lock that enhances the child's safety in case of the e-liquid leakage when the coil head is removed accidentally.
It's about a good flavour:
- dual-side air inlet
- low resistance coil
- mesh structure
- wide-bore mouthpiece
How to fill with e-liquid:
- do not inhale immediately after filling the pod. Let it stand for several minutes to get the cotton completely saturated.
- remove the top cap and the slot on the pod appears
- inject up to 5ml of e-liquid into the slot and install the top cap back carefully
- firmly push the pod back into the nord 5 device
- wait 2-3 minutes before vaping
Multiply the security:
- 8 seconds cut-off
- pod detection
- low-voltage protection
- short-circuit protection
What's in the box
1 x Nord 5 Device (2000mAh)
1 x Nord 5 Pod (RPM 3 Meshed 0.15ohm Coil Preinstalled) (5ml)
1 x RPM 3 Meshed Coil 0.23ohm Coil
1 x Type-C Cable
1 x User Manual