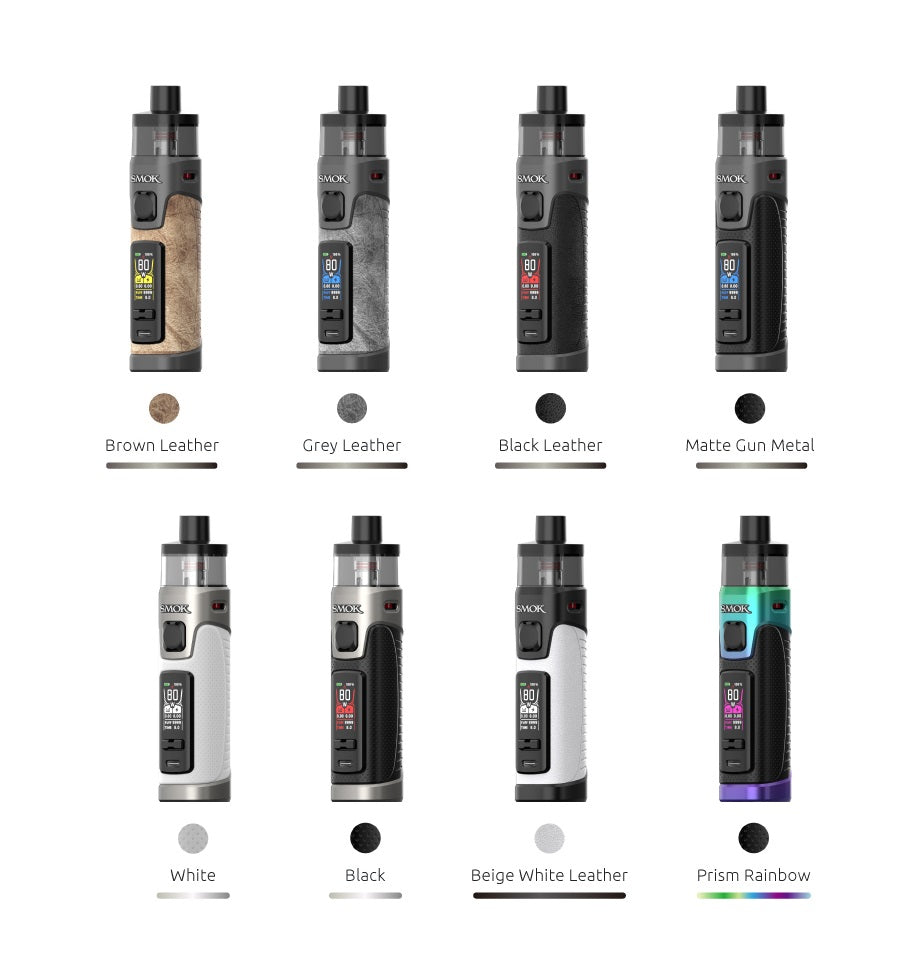 Smok RPM 5 Pro Pod Kit
---
Smok RPM 5 80w Pro Pod Kit is the new go-to device on the market that integrates aesthetics and utility as a whole. The Smok RPM 5 80w Pro is packed with amazing enhancements that extend the benefits of the RPM family. The device offers 80w of sufficient power to sustain immersive vaping. The new pod offers a 6.5ml RPM Pod, it comes with two new RPM 3 Mesh coil heads, this in return is best suited for DL (Direct Lung) vaping enthusiasts.
The RPM 5 Series has a graceful design, offers excellent portability, and is durable. The overall experience of this device is mesmerizing from the sleek, circular design to the smooth finish to the padded leather it is truly something to behold. The glossy finish and rounded edges offer a stylish look and flowing feel. This stunning pod combines a classic design bringing you a full-featured vaping companion for your all-day activities.
Specifications:
RPM 5 Empty Cartridge with child-resistant slide-to-open top fill design.
New RPM 3 Mesh Coils 0.15/0.23 Ohm for perfect Direct Lung Vaping.
Single 18650 Battery
Power Output 5-80w
Stepwise Airflow Control
Parameters:
29.5 x 31.2 x 95.8mm
Tank Capacity 6.5ml (TPD)
Resistance 0.15ohm
18650 Battery (Not Included)
Package Contents:
1x RPM 5 Pro Device
1x RPM 5 Pod (RPM 3 0.15ohm Preinstalled)
1x RPM 3 0.23ohm Coil
1x Type C Cable
1x User Manual