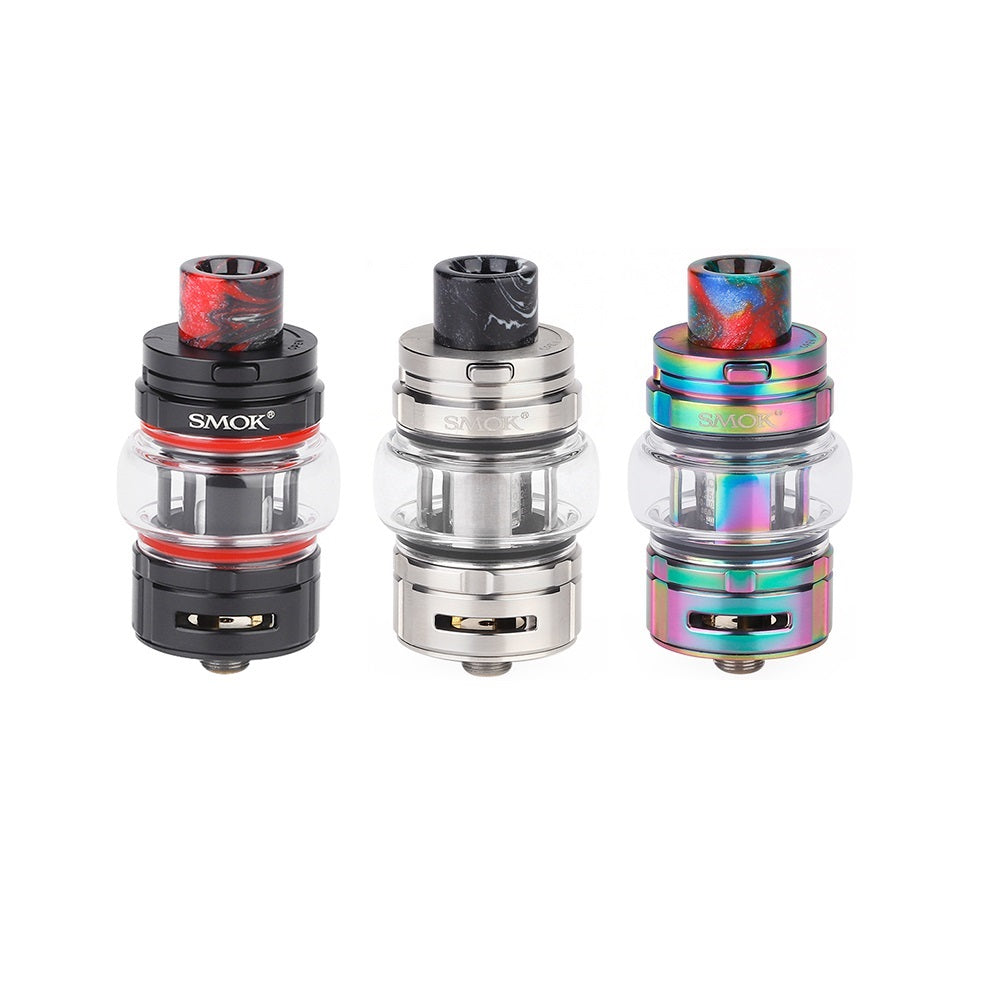 Smok TF Sub Ohm Tank
---
Introducing the SMOK TF Sub-Ohm Tank from SMOKTech. Fresh off the heels of the SMOK Baby V2 comes a larger, technologically innovative, and more powerful sub ohm tank. The TF Tank can utilize mesh and ceramic coils, and although similar to the SMOK Baby V2, the TF has a raised base to provide a larger airflow and increased flavor saturation.
The TF Tank can accommodate 3.5ml of eliquid with its standard glass tube, and 6ml with its pre-installed bubble glass tube. This tank also maintains the convenience of the Baby V2 with a push to open fill port. SMOK has also included a silicone protective sleeve to keep your bubble glass tube safe from any accidental drops. 
The TF Tank also introduces SMOK's newest plug and pull coil technology. The TF Tank BF-Mesh Coil Family does not require users to thread their coils, instead just a simple push or pull will do the trick. The included 0.25 ohm BF-MESH coil features a large honeycomb mesh configuration for amazing flavors, and is rated for 30W to 80W, but recommended for 60W to 70W.
SMOK has put a lot of work into crafting the TF Sub Ohm Tank. From increased airflow to all new plug-and-pull mesh coils, this tank is a huge step forward in vape technology. Proudly available at Giant Vapes!
Coil Compatibility: The SMOK TF Sub Ohm Tank uses the SMOK BF Mesh family of coils.
SMOK TF Sub Ohm Tank Includes:
(1) SMOK TF Sub-Ohm Tank
(2) 0.25 ohm BF Mesh Coil
(1) 6ml Bubble Glass
(1) 3.5ml Standard Glass Replacement
(1) Silicone Bubble Glass Protector
(1) User Manual
Spare Parts
SMOK TF Sub Ohm Tank Features:
- 6ml Maximum Juice Capacity
- Stainless Steel Construction
- Plug-and-Pull BF Coil Technology
- 0.25 ohm TF BF-Mesh Coils - rated for 30-80W
- 0.5 ohm TF Ceramic Coils - rated for 30-60W (Sold Separately)
- Convenient Top-Fill Rotary Design with Lock Button Mechanism
- Dual Adjustable Airflow Control at Base
- 810 Wide-bore Resin Drip Tip
- Antibacterial Medical Cotton
SMOK TF Sub Ohm Tank Specifications:
Material: Stainless Steel
Capacity: 6ml
Size:  30mm x 56mm
Weight:  75g
Threading: 510