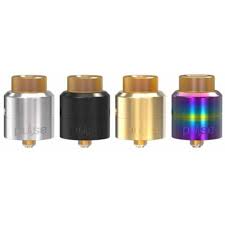 Vandy Vape Pulse 24mm RDA
---
Vandy Vape Pulse 24 Bottom Feed RDA - Rebuildable Dripping Atomizer for Squonk/Bottom Feed Devices

The Vandy Vape Pulse 24mm RDA was designed in collaboration with Tony B. to create a unique 24mm diameter bottom feeding RDA for squonker devices. Based upon the original Pulse 22 RDA, the Pulse 24 now features a larger build deck that supports both single and dual coil builds. The capacity has also increased to 2.0ml.

The Pulse RDA features a pre-installed squonker pin and also includes a standard 510 contact pin so you can use the Pulse RDA like a dripper. The Pulse RDA features a postless build deck for single and dual coil builds. The low profile design allows for easy and varied coil builds. The unique side airflow design blows air directly onto to your coil. The unique leak resistant quadruple airflow slots provides a great amount of vapor and flavor production. The adjustable airflow top cap features four air holes that may be adjusted down to your personal preferences.

The Pulse 24 BF RDA includes an ULTEM wide bore drip. ULTEM is a high temperature plastic with a significantly higher melting point compared to Delrin. ULTEM is also a very hard material, making it a suitable choice when threading into stainless steel. Give your Pulse 24 BF RDA a fresh look while enjoying the comfort of these drip tips.
Features and Specs:


Designed in Collaboration with Tony B.
Dimensions: 1-3/8" x 15/16" (Including Drip Tip and Threads)
24mm Diameter
Gold Plated 510 Contact Pin
2.0ml e-Liquid Capacity
Larger Postless Build Deck for Single Coil and Dual Builds
Low Profile for Easy Coil Builds
Large Post Hole Screws
Unique Side Direct Airflow
Unique Leak Resistant Quadruple Airflow Slots
Adjustable Airflow Top Cap with Four Air Holes

ULTEM Wide Bore Drip Tip

Includes Pre-installed Squonker Pin
Includes 510 Contact Pin
Includes 510 Drip Tip Adapter